CMG s.r.l.

- VETERINARY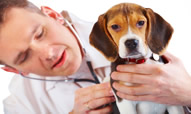 Through the years of experience in the Medical World, we are have achieved the knowledge of choosing the best innovative products both in Medical and Nutritional for the Veterinary Division. Our line of products includes laboratory instruments and supplies from many of the leading manufacturers:
Diagnostic equipment
Nutritional
Insecticides
Disinfectants
Blood collection product
Instruments and chirurgic equipment
Wound management
For any further information or investigation of which need not hesitate to contact us, we will be at your disposal.